About our logo
Acerca de nuestro logo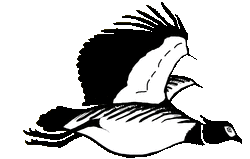 The logo for AvesInArt is a stylized drawing of the Southern Screamer, Chauna torquata, one of South America's spectacular wetland species. The bird's popular name, Chajá, is an onomatopoeic rendition of its strident call, heard in marshes throughout southern South America. Known to local people as a watchful sentinel, it warns other species of imminent danger as it calls out chaja! For those who enjoy birds in their natural settings, the Chaja reminds us that we too should be sentinels and guardians, helping to preserve nature's beauty for future generations.

El logo de AvesInArt es un dibujo estilizado del Chajá, Chauna torquata, una de las especies más espectaculares de los humedales de América del Sur. Su nombre popular, Chajá, es la onomatopéya de su grito estridente, escuchado en los humedales del sur de América. Conocido popularmente como un centinela de los campos, su grito chaja! advierte a otras especies del peligro inminente. Para aquellos de nosotros que apreciamos las aves en su ambiente natural, el Chaja nos recuerda que también debemos ser centinelas y guardianes de la naturaleza y así contribuir a conservar su belleza para las futuras generaciones.