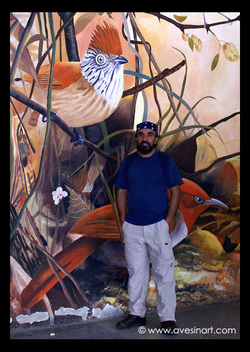 Jorge at the market in Loja Ecuador, 2009
About - Acerca - Jorge de León Cardozo


Jorge was born in Montevideo, Uruguay (from the Guarani word for 'the land of the colorful birds'), where his passion for the natural world began. Surrounded by books, and his butterfly and lizard collections, a love for nature was always the main part of his life. In the mid-1980's Jorge began teaching high school biology, doing research in herpetology and the ecology of Uruguay's coastal wetland birds. Since then, his work in the avian world has grown into today's interest in photographing birds. This has led him to travel to all South American countries, Europe, Africa and Asia pursuing his love of birds.
Jorge now lives in the rural town of Willington, Connecticut, where he enjoys the quiet and beauty of New England's forests and rivers.


Jorge nació en Montevideo, Uruguay (del guaraní: "la tierra de los pájaros pintados") en donde comenzó su pasión por el mundo natural. Rodeado de libros, colecciones de mariposas y lagartijas, el amor por la naturaleza ha sido siempre la parte más importante de su vida. A mediados de la década de los ochenta comenzó a enseñar Biología en la enseñanza secundaria y a realizar investigación en Herpetología y Ecología de las aves de los humedales costeros del Uruguay. Desde entonces su trabajo en el mundo de las aves ha crecido hasta manifestarse hoy día en su interés por la fotografía de naturaleza con énfasis en las aves. Esto le ha permitido y motivado a viajar por toda Sudamérica , Europa, Afríca y Asia continuando su amor e interés por las aves.
Jorge vive hoy día en el pueblo rural de Willington en el estado de Connecticut, USA, en donde disfruta de la tranquilidad y belleza de los bosques y ríos de Nueva Inglaterra.
---